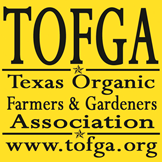 North Texas is very lucky to have the TOFGA conference in Mesquite this year.  Browse the list of speaker topics below and you will quickly understand how GREAT this is!
—
Don't miss your chance to attend to 2012 TOFGA Conference, Feb 17-19 in Mesquite!   Have you seen the program for the conference?  It's truly amazing.  Register today!
- Hotel rooms are filling up!  Reserve your room today.
- Keynote speaker Mark Winne, community food activist, writer, and trainer
Look at these session topics and fabulous speakers!!     Register today!
Organics on a Budget – Justin Duncan, Prairie View A&M
Building a Compelling Business Plan – Steve Carlson, Slow Money DFW
Rainwater Harvesting – John Smith, SARE
First Steps for Farm to School – Andrew Smiley, Sustainable Food Center
GMO's – Judith McGeary, FARFA and Cameron Molberg, Coyote Creek Organic Feed Mill
Soil Biology and Improvement for Growers – Michael Bosco, Soils Alive
Agricultural Valuation – Get that Exemption! – Sue Beckwith, TOFGA and Brad Stufflebeam, Home Sweet Farm
Poultry Production – Jules Assata, Shades of Green and Jennifer Huf, Slow Food Farm
Interns and Volunteers on the Farm – Amanda Austin and Dan Bernsworth, Cardo's Farm Project
Greenhouse Management – Pamela Hornby, Boggy Creek Farm
Integrated Pest Management – Thomas Harr, Earthwise Organics
Goats and Lamb – Ty Wolosin, Windy Hill Farm
Growing from Seed for Home and Market Gardens – Kim Martin, Barking Cat Farm
Intro to Aquaponics – Dave Pennington, Synergyfish
Heirloom Tomatoes -  Marilyn Simmons, Garden Inspirations
Community Gardening – Amanda Vanhoozier, Coppell Farmers Market & Community Garden
Beating the Drought – Brad Stufflebeam, Home Sweet Farm
Microgreens – Hans Hansen, Twin Persimmons Farm
The Why and How of Establishing Local Fruit Plant Nurseries for Organic Growers – Guy Ames, NCAT
Organic Vegetable Gardening – Howard Garrett
Soil Biology and Improvement for Gardeners – Michael Bosco, Soils Alive
Drought Management Resources – Alyssa Burgin, Texas Drought Project
Texas Food Laws – Judith McGeary, FARFA
Serengeti Grazing – Sabino Cortez, Erath Earth
Edible Ornamental's for North Texas – Leslie Finical Halleck, Halleck Horticultural
Garden Design for Beneficial Insects and Pest Control – Lucy Harrell
Berries in North Texas – Sue Newhouse, Aunt Sue's Barn
Marketing the Food You Grow – Brian Cummings and Rick Shoen, Eat Green DFW
Retail and Restaurant Marketing – Chris Romano, Whole Foods and Cynthia Chippendale, Potager
Dairy Management Roundtable – Texas Daily Harvest, Veldhuizen Dairy, County Line Dairy
High Tunnel Construction Demonstration – Steve Chaney, Tarrant County AgriLife
Organics for Professional Landscapers – Howard Garrett
Seed Saving – Dr. James Veteto, UNT, Southern Seed Legacy
Organic Fruit Production in North Texas – Guy Ames, NCAT
Social Networking and Website Optimization – Ty Wolosin, Windy Hill Organics, and Mike Newhouse, Impyre
Additional On-Farm Income  – Erin Flynn, Green Gate Farm
Low Tunnels – Dr Obadiah Njue, Ext Hort Agent
Small Scale Urban Agriculture – Andrea Bithell, Oak Cliff Organics and Paul Quinn College
Urban Backyard Chicken Keeping – Leslie Finical Halleck, Halleck Horticultural
Vermicomposting – Heather Rinaldi, Texas Worm Ranch
Papercrete for Root cellars – Stuart Veldhuizen, Veldhuizen Cheese
Mycchorizae Fungi – Larry Simpson, MycoApply
Cover Cropping – Brad Stufflebeam, Home Sweet Farm
Technology for Farms – Sue Beckwith, TOFGA and Kestrel Lancaster, GreenGate Farms
Homeopathy on the Farm – Maureen Hansen, President Homeopathic Society of TX
Transplanting Sweet Corn – Larry Butler, Boggy Creek Farm
Certified Naturally Grown – Pamela Klein Johnson, Rose Creek Farm
Farmscaping:  Plant Diversity on Farms – Justin Duncan, Prairie View A&M
Beekeeping – Brandon and Susan Pollard, Texas Honeybee Guild
Grass Fed Beef Roundtable – Matt Hamilton (Genesis Beef), Ty Wolosin (Windy Hill Organics), Robert Hutchins (Rehoboth Ranch)
Permaculture on Small Farms – Brian Gallimore
Farm Bill Session – Judith McGeary, FARFA

Questions?  Please call Lee at the TOFGA Office:  512-656-2456