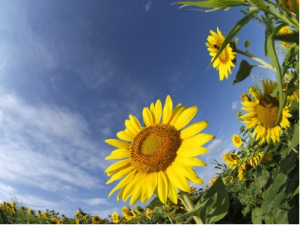 http://www.freedigitalphotos.net/images/Flowers_g74-Sunflowers_p21313.html
I love the look of those huge yellow flowers growing in my garden and I also love the tasty seeds, but I have a hard time getting any seeds away from the birds! In order to harvest your sunflower seeds you may need to take some extra steps. Here are some tips:
Wrap the Flowers – When the sunflowers are fully grown and start to go to seed you may need to wrap the head to keep the birds and other predators out. This also helps to keep the seeds from falling out onto the ground. You can wrap the head in a brown paper bag or in cheese cloth. As long as it lets the seeds dry without moisture you should be able to harvest the full head of seeds.
Cut and Dry – If letting the seeds ripen on the flower is not in your books then you can cut off the head and let the seeds dry indoors. Cut off the flower about a foot before the head. Then wrap the head in a paper bag or cloth and hang it upside down in a dry, warm area like a garage or shed. Keep it dry and the seeds should just fall off when they are ready.
Shake It – Speaking of falling off, you should have no trouble removing the seeds from the flower when they are ready. Just shake the bag with the flower head in it and the seeds should drop off easily. If you have to work at it then they are not ready yet.
As you can see, harvesting sunflower seeds is not hard. All it takes is some patience and a little dry air to get you a harvest of tasty and nutritious sunflower seeds.
Author Bio
Nancy Parker is a regular contributor to www.enannysource.com and she loves to write about wide range of subjects like health, Parenting, Child Care, Babysitting, nanny background check tips etc. You can reach her @ nancy.parker015 @ gmail.com.