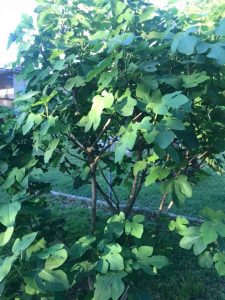 The online community at ourfigs.com lists over 500 different varieties of figs.  They even group figs into five flavor groups of Honey, Sugar, Adriatic, Bordeaux and Dark Berry.  I was turned on to this world I never knew existed by reading an answer given by Chad Spurlock in the NTVG facebook group.
Chad's favorite variety is Adriatic JH and says they "taste just like strawberry jam".  He currently grows several other varieties in his Fate, Texas backyard where the trees are planted very close to each other, 2 foot apart in some cases, and are kept pruned throughout the year to keep their growth and vigor down to the desired size.  Airflow around the plant is important to prevent rust issues during wet times.  Chad said he does the heavy pruning in the winter and some throughout the year, but his "grapes and blackberries are more needy with their pruning, just to put things in comparison".  This type of orchard design is known as backyard orchard culture or high density planting and boasts the benefits of being able to have more variety and more fruit in a given area of land, prolonged harvest, and doesn't require the use of tall ladders.
Figs are one of the easiest fruit trees to grow in north Texas, and they are one of the easiest trees to root from cuttings.  Trees can be bought in pots or bare rooted just like other trees, or fresh branch cuttings can be convinced to grow new roots either outdoors or indoors.
Fig trees are a great tree to have in your yard if you like fresh fruit that you can't buy in stores, and as an added bonus, they just happen to be easy to grow in the DFW area.